As a driving force
I am an expert for disruptive change and opportunities, enriching the mindset of your event participants with food for thought and new perspectives.
As a thought leader
I am uncompromisingly honest and provocative. I will confront your audience with the consequences of Digitization, Industry 4.0, Virtual Realities, Blockchain, the Share Economy, and Artificial Intelligence. I will show the risks and opportunities to your audience and encourage them to proactively shape the future.
As an entertainer
I inspire and motivate the audience and shake it up at the crucial points. Whether it's a conference, a customer event or an internal company event with 10 or 1,000 employees - I can stimulate any audience and captivate them with a charming, sympathetic and yet provocative style.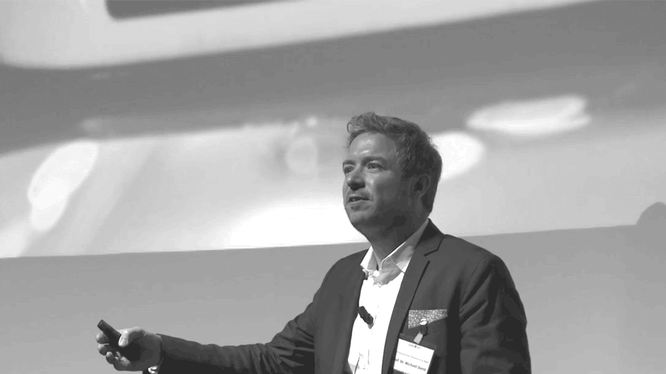 Mike in Action
Examples
Digitalization and the Internet of Things

What will come, what will stay and what will go away?

In other words: What's the situation regarding your industry sector, your business model? What will change in the years to come?

Digital Innovation Methods & Tools

Identify innovation potentials and sustainably secure competitive advantages

In other words: Which methods and tools are suited to remain competitive on a sustainable basis?

Innovate or Die

How companies use digitalization for sustainable growth

In other words: How can you quickly and purposefully develop business models for the future?

Smart Service Generation

Systematic creation of innovative services and business models

In other words: How can you apply the Smart Service Canvas which we developed with other partners in order to successfully market smart services with high margins and a high scalability?

Integrated Trend and Technology Management

A systematic look into the future

In other words: How can you systematically shape and control your own innovation portfolio using trend and technology radars?

Digitize everything

and get started today!

In other words: In your current business, how do you identify digitization potentials and how do you arrive at a digitization roadmap?